Ah! How Wretched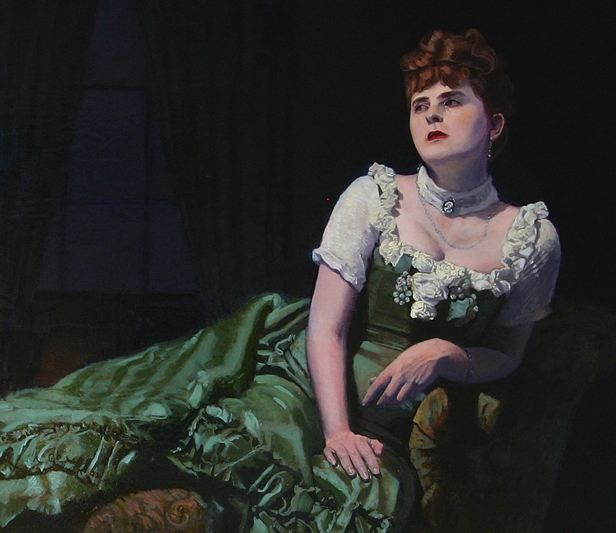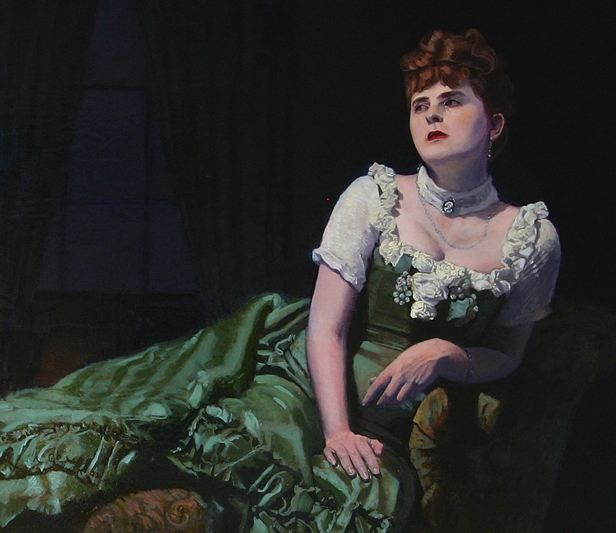 Ah! How Wretched
HELENA MODJESKA as MARGUERITE GAUTIER
from Camille by Alexander Dumas
HELENA MODJESKA was a Polish immigrant who fled her country in 1876 and eventually settled in a Polish agricultural colony in the small pioneer town of Anaheim, California. The colony suffered financial failure during the drought and depression of 1877, and Ms. Modjeska was forced to learn English and return to the stage—first in the title role of Adrienne Lecouvreur, soon followed by appearances as Ophelia, Juliet and Camille. Over the next thirty years she became one of America's most beloved actresses. Ms. Modjeska was featured (anonymously) as the fictional actress, Maryna Zalezowska, in the Susan Sontag novel, In America.
The challenge of painting a scene from Camille was in the creation of a Victorian room on a Victorian stage, a room that could theoretically be disassembled between acts, and yet have the feel of an overfilled Victorian era sitting room on a stage in late nineteenth-century California.
The scene is at the beginning of the play, when Marguerite, having been discomposed by a bout of coughing during a party at her apartment, says, "Ah! How wretched I look!"
The lighting was chosen to replicate the nature of stage lighting, which causes a spot lighted subject to leap into sharp focus while the rest of the set fades to murky darkness. The wooden floor implies the frontier aspect of the California theater, and the costume replicates existing apparel from the photography of Ms. Modjeska.
Ah! How Wretched is oil on board.
The painting is 25.5 x 32.5 inches; framed to 30 x 37 inches
Price includes frame and shipping (continental US).
The framed artwork will be securely packaged and shipped by UPS. You may also pick up the artwork in my studio in southwest Virginia.
If you would like to view the original artwork, please email me for an appointment. I'd be happy to show it to you.